Aqua-Brown-Navy Inlay #3 with White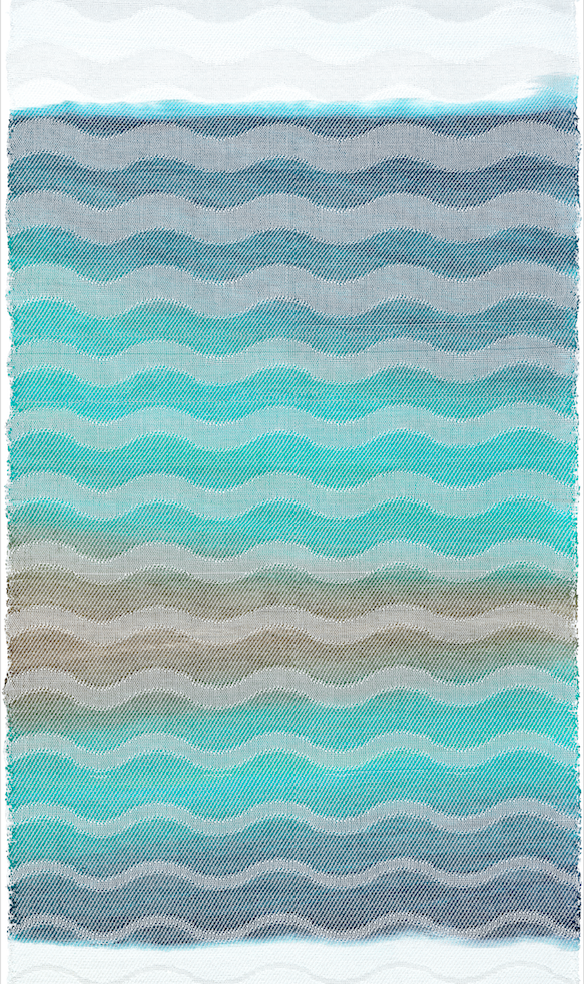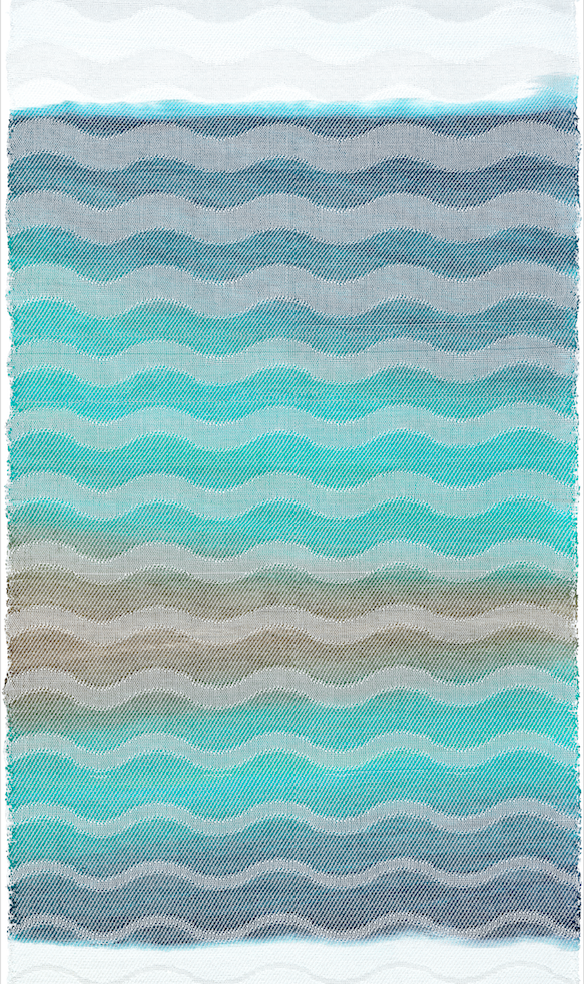 Aqua-Brown-Navy Inlay #3 with White
Title: Aqua-Brown-Navy Inlay #3 with White
Size: 24" wide x 34" long
Medium: Hand-painted, hand-woven, double weave inlay
Materials: tencel
Year: 2014
Cost: $5,200
I am a weaver, which means I get to see and be a part of the transformation of a white cone of yarn into a colorful delicate piece of fabric. My mission is to create artwork that helps inspire hope, harmony and healing one thread at a time.
I created this with a process of first weaving an all white piece, mixing more than 60 colors in a percentage gradation of aqua to brown to navy to aqua. Then I applied those dye colors on to the all white piece. Later, after it sets and rinsed and dried, I deconstruct the pieces so I take out all the weft yarn and reuse the dyed weft cotton in this new piece that I rewove over again. Basically, A LOT of work went into making this piece.
With installing this, I first measure 2 " from the wall to hang any of my panels. I believe it is best for the woven panels to have some breathing room and not be hung straight up on the wall like a painting.
There is a 2" sleeve at the top and bottom of each panel where a 1/4" round metal rod is placed. The panel is then hung from the ceiling using screw hooks and small monofilament fishing line strung through the top of each panel two inches from both ends. The monofilament is strung through the panel and under the metal rod. It is best to have two separate pieces of monofilament each attached to its own hook instead of one piece of monofilament and or one hook. This creates an unbalanced teeter-totter effect.
The metal rod placed through the sleeve at the bottom gives the woven panel some tension. After installing it is best to steam iron if you see any wrinkles.